Biodiesel Processing Equipment
The YZS-120 screw type biodiesel processing equipment is characterized by its simple design, easy to use, wide suitability and continuous operation, high productivity and high oil output rate.
Moreover, this biodiesel processing equipment suitable for cold pressing or hot pressing any oil seeds and oil plant, such as palm fruit, palm kernel, coconut, peanut, cashew, avocado, tiger nut, rapeseeds, peanut, sesameseeds, etc. It was widely used in the small oil refinery and rural enterprise. At the same time it can be designed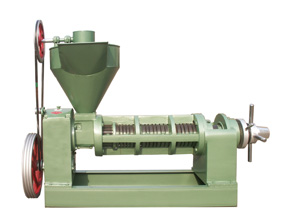 into D series and A series.
Specification of Biodiesel Processing Equipment
Capacity:6T per 24 Hours
Power:15kW/3-phase/1440rpm
Size: 1970 x 700 x 780mm
Weight:680kg

Raw Material
Capacity (kg/24hr)
Output Rate(%)
Cake Residual (%)
Rape seeds
Hot pressing
7000-8000
30-38
7.5-8
Cold pressing
2400-3000
28-35
Peanut
Hot pressing
5000-7000
35-45
7
Cold pressing
2000-3000
32-40
Bean
Hot pressing
6000-7000
10-16
6.5-7
Cold pressing
2500-3500
8-14
Sesame
Hot pressing
7000-8000
44-47
6.5-7.5
Cotton seeds
Cold pressing
3000-3500
10-14
5.5-6.5
Features of Biodiesel Processing Equipment
* Cast iron machine base;
* Special gear box structure make the rotating speed averagely;
* Main parts of chamber through the processing of high-temperature tempering and low temperature quenching;
* Cake thickness can be adjusted once the machine stop running;
* Superior grade oil cake;
* Compact structure, stable function, simple maintenance.
Welcome to contact us in the follong form to get further info about our biodiesel processing equipment, we are always at your service!
We have small scale biodiesel process equipment with capacity from 0.5t/d to 12t/d. We also have large scale bio diesel processing plant with capacity from 12t/d to 50t/h. We also can process the complete turn-key bio diesel oil processing plantsfrom capacity 100-500t/d.