Oil Press Extruder
YZS-160 oil press extruder is an advanced seed oil press extruder, characterized by its simple design, easy to use, wide suitability and continuous operation, high productivity and high oil output rate. Moreover, this oil press extruder can be used for various raw materials and depending on oil content of the particular crop you are pressing, the machine will extract 90-95% of it. So for canola and sunflowers, you will get about 300kgs per ton. Soybeans yield are about half and the remaining cake is worth more for animal feed.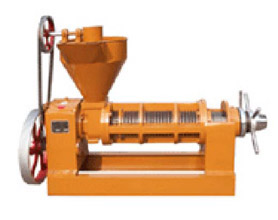 Specification of Oil Press Extruder
Capacity: 14-16ton/s4hrs
Power: 22kw
Size: 2000*600*850mm
Weight: 830kgr
Features of Oil Press Extruder
* Cast iron machine base;
* Special gear box structure make the rotating speed averagely;
* Main parts of chamber through the processing of high-temperature tempering and low temperature quenching;
* Cake thickness can be adjusted once the machine stop running;
* Superior grade oil cake;
* Compact structure, stable function, simple maintenance.
Bigger oil press extruder from 5 to 15 ton/day are available, we also match motor, diesel engines, depending one what you need, we design different size pulley to reach to max capacity and output oil.
We also have the small oil press from 1-20tons/day for your choice, please feel free to contact us. We are always at your service!
We are the leading oil press extruder, seed oil press extruder supplier in China,with a global outlook, production and sale of quality vegetable oil press machines.