Tea Seed Oil Press
This model of tea seed oil press is an advanced oil press machine which characterized by its simple design, easy to use, wide suitability and continuous operation, and high productivity and high oil output ratio.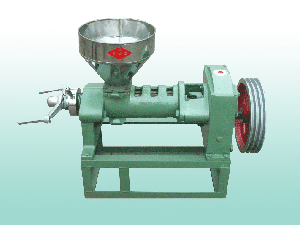 Specification of The Tea Seed Oil Press
*Weight: 620kg
*Size: 1910 x 610 x 765mm
*Capacity: 3-4 tons per 24 hours
*Power: 3-Phase 7.5 kW 12HP-1440rpm
This YZS-68 tea seed oil press is composed of shell and kernel. Generally the oil content of tea seed is 25% 一33%, the kernel content of seed is 66% 一72%, the oil content in kernel is 40% 一60%.
Tea Seed Oil Processing Process
Tea seed—>drying—> decorticating—>flaking—>cooking—>prepressing—>solvent extraction- >filtering—>refining
Tea seed oil (also known as tea oil, camellia oil, or tsubaki oil) is an edible, pale amber-green fixed oil with a sweet, herbal aroma. It is cold-pressed mainly from the seeds of Camellia oleifera but also from Camellia sinensis, Camellia japonica and Camellia sasanqua.Tea seed oil should not be confused with tea tree oil (melaleuca oil), an inedible essential oil extracted from the leaves of the paperbark, Melaleuca alternifolia, and used for medicinal purposes.
Contact us anytime you feel interest in our tea seed oil press machine, we also offer other models oil press machines for different capacities, we are always at your service!
Manufacturer and exporter of small / mini oil press. Simple design, easy to operate and low maintenance. We can supply 10-300 ton/day oil press and small oil expeller.