Rape Seeds Oil Press Equipment

The YZS-100 screw oil press is an advanced rape seeds oil press equipment that can also be matched with diesel engine. It is capable of pressing various plant seeds sch as rapeseed, cottonseed, sesame, peanuts, soybeans, sunflowers, jatropha, linseed and the like.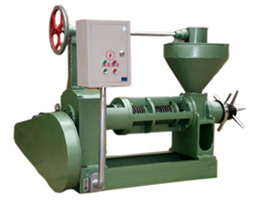 This rape seeds oil press equipment is easy to operate and repair, has a wide range of applications, performs reliably. It is quite sitable for small and medium-sized oil extraction workshops or individual households.
Specifications of the Rape Seeds Oil Press Equipment
Raw Material


Capacity (kg/hr)

Output Rate (%)

Cake Residual (%)

Rape Seeds

Hot Pressing

150-170

30-38

7.5-8

Cold Pressing

75-95

28-35
Rape Seeds Oil Press Equipment With Diesel Engine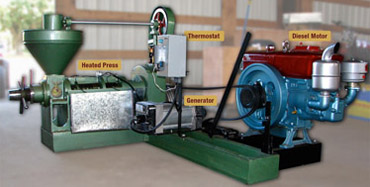 The power of this rape seeds oil press equipment can be electricity or diesel generator. For biodiesel lovers, they can make biodiesel by themselves at home by using the eqipment. The following picture shows the combined rape seeds oil press equipment, thermostat, generator and diesel engine. The diesel offer the power for the generator, then the generator can offer the electricity for the control cabinet and heating pipe in the press machine.
The rape seeds oil press equipment is in accordance with the standard JB/T9793.1-1999 in China and the quality is also authorized by CE certificate and ISO9000. The durable performance and reasonable design of our press equipment also accepted by all of our customers all the world. Spare parts are always supplied. What are you waiting for? Email us now in the following form to get more info about our rape seed oil press equipment!
Manufacturer and exporter of small / mini oil press. Simple design, easy to operate and low maintenance. We can supply 10-300 ton/day oil press and small oil expeller.